Well I maybe 25 years old but that didn't stop my Daddy and Janiece from giving me a goal and then a reason to reach it. With my running goals, I knew weight loss was a possibility but it wasn't my reason (still isn't ) my reason for doing it. Well my Daddy and Janiece are starting a new life style change of eating clean. There reasons aren't mine to share but with that change they are worried about my health. I am not at my healthiest weight, I won't lie I am fat (what I consider fat on me, I am not comparing myself to anyone else). I am not unhappy with my weight, I came to the realization long ago that obsessing over ones weight is not healthy.
I know for my health that I should make a change, I want to live a long life. So to the bribery still works part, my healthy weight in my mind is 160. Well my Daddy agrees (trust me we don't always agree and when we do it is a big deal. Such a big deal this time that we made an agreement. That if I get down to 160 and maintain it for one month that they will buy me a new pair of cowboy boots. Why Cowboy boots you ask? The last pair I got were a 17th birthday present from Daddy and Janiece. They are utilitarian, they are not cute. Now I want an update, a pair I can wear with skirts and such. So when new boots where Janiece's offer, I jumped at the chance. They asked for one month of maintenance, I agreed but I want to maintain forever (minus a third pregnancy). Janiece was quick to say there is a five pound wiggle room once I get there, since I am still cycling and with that comes water weight each month. So now that I have an incentive to reach my goal weight (I am not gonna lie, it was what I needed to start worrying about weight), the game is on.
I already have some boot ideas in mind. I knew that I wanted a tall shaft(shush you dirty minded folks). After trying on Janiece's Tony Lama 3R'S, I knew that was want I wanted. I had a few things in mind, I wanted square toed, colored in some way, and a bit of a heel. I found 3 pairs, that I really liked. So now I ask you readers to help me decide between the three.
Option 1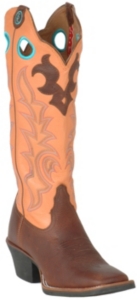 Option 2


Option 3

I have added a tracker to the side of my blog, for my weight loss. If you see that the number isn't changing after a couple of weeks or I have gone up. Please leave a comment on here, or shoot me and email. It can be encouraging, giving an idea on how to jump start me, or even getting on to me. I know I can do this but with a little encouragement it will be easier.
Don't miss any of my adventures of being a Grown up If you want more Bobbi, check out my babbles